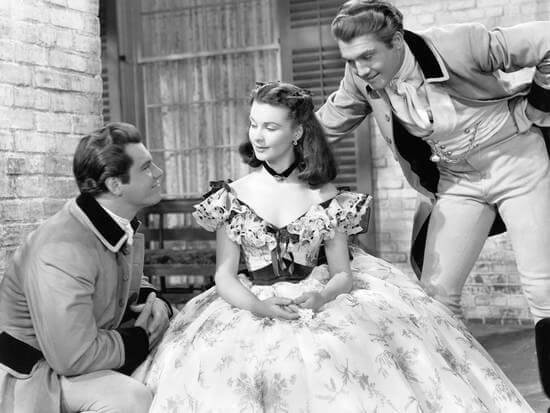 Romance has always been a hugely popular theme in films — but why?
Romances either remind us of the love in our life or the type of love we want to have in the future. These movies still have conflict, but destiny always prevails! It makes us feel like we can have these epic and sweet romances.
These movies tell some of the best love stories. Because of their great characters and storytelling, our top 10 classic romantic movies have inspired stories long after they were made.
1. Casablanca (1942)
Set during World War II, a veteran — played by Humphrey Bogart — is running a nightclub in the city of Casablanca and helps those trying to flee the war. During the film, he again meets his true love, whom he was separated from during the war.
2. Gone With the Wind (1939)
The South is often romanticized, and it is probably because of this film. In fact, Gone With the Wind is one of the most popular movies of all time! When it was produced, it had a budget of $3.7 million, which was astoundingly high for that time.
3. Sabrina (1954)
This film stars Aubrey Hepburn, one of our favorite actresses of all time. While she's starred in a few other great romances, we can't help but love this story. Hepburn's character must choose between two brothers, and like many romantic films, we see a great deal of character development in the man she ends up with.
4. The Philadelphia Story (1940)
This wonderfully sweet movie stars Katharine Hepburn, who is of no relation to Aubrey. The Philadelphia Story is one of Katharine's most well-known and loved films. Like other romantic films, Hepburn has several men whom she is interested in and must choose between.
5. An Affair to Remember (1957)
Our two main characters meet in a romantic setting, a cruise ship, and fall in love. The only catch? They're both engaged to other people. At the end of the trip, they promise that if they both still love each other after six months, they will meet at the top of the Empire State Building.
6. The Princess Bride (1987)
The Princess Bride is a somewhat unconventional romantic film, but still fantastic in its own way. This movie uses unique storytelling, and the love story between Buttercup and Westley is all about destiny — they go through a lot to be together.
7. Singin' In the Rain (1952)
When you read the title of this movie, did you start humming to yourself? Along with its wonderfully catchy tunes and dance numbers, this movie helped popularize musicals with its love story.
8. Grease (1978)
Another great love story and musical combined, Grease tells the classic scenario of two people from different walks of life who fall in love. Of course, their differences don't matter anymore because of how they feel about each other.
9. Roman Holiday (1953)
We've added another Aubrey Hepburn film because we really love her. In this flick, audiences watch a common fantasy come true — you're off visiting a beautiful and exciting new place, and then you also meet your love.
10. Bringing Up Baby (1938)
We're finishing up with another great Katharine Hepburn film. If you love love stories and adorable animals, this one is a must-see! Hepburn entangles her love interest, played by Cary Grant, into all kinds of wacky scenarios that just aren't comparable to plots of newer romantic comedies.
Did we hit on most of the best old romances in our top 10 old romantic movies? Let us know which films you'd add to our list! You can also come into the store and let us know and shop our large movie selection.  We bet you will find a few additional classic romances to take home with you.