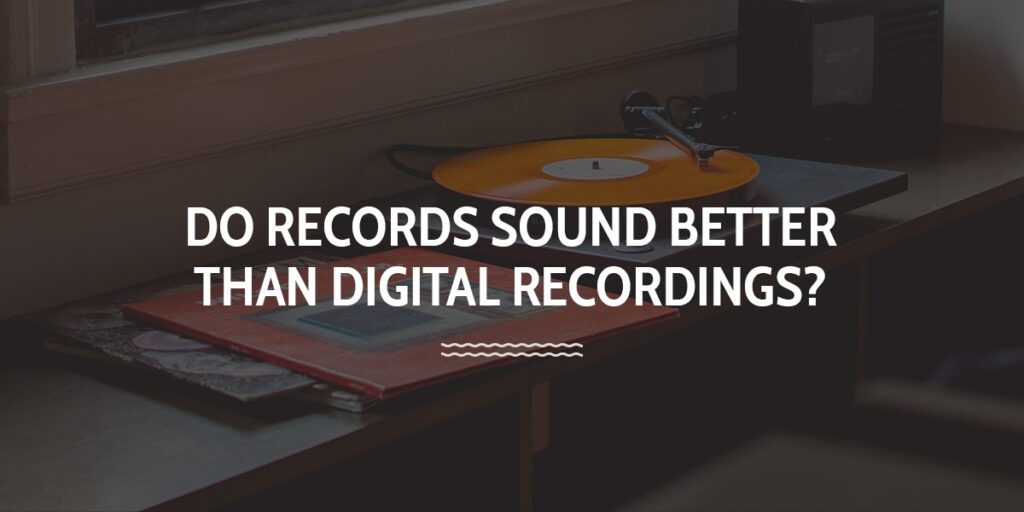 Digital recordings are more accessible than ever, allowing listeners to play songs instantly from many devices. However, vinyl records have surged in recent years, leading to a debate over whether digital or vinyl recordings create a better sound. 
While the answer lies mainly in your personal preferences, there are major differences between the two sounds.
How Do Digital Music Players Work?
After recording the audio for digital music, the artist sends the signals through an analog to digital converter (ADC) for a computer to process the song as a series of ones and zeros. The resolution will depend on the same rate and bit depth of the audio. 
While playing digital music, the encoded data travels back through a digital to analog (DAC) converter before passing as an amplified signal to headphones or speakers. 
How Do Record Players Work?
Artists will electronically send finished records to a vinyl manufacturing center, where a lathe cuts the recording into a piece of lacquer with grooves that match the music's waveform. This disc — known as the master disc — is used to create vinyl records. 
Your record player needle will follow the record's groove, create an electronic signal and produce sound. 
What Are the Differences in Sound Between Vinyl and Digital?
The vastly different creation processes create distinct sound qualities. Some differences in how vinyl sounds compared to digital recordings include:
Frequency response and distortion: Vinyl records cater to the total frequency of human hearing. As the spiral becomes tighter, you may experience distortion.
Dynamic range: Digital files allow a difference of over 90 decibels between the loudest and softest sounds, creating a greater dynamic range than vinyl recordings. 
Channel separation: Vinyl records have a limited soundstage due to a 30-decibel separation between the left and right channels to the 90 decibels on digital files.
Mechanical noise and surface noise: Many turntables produce low-frequency noise from the bearings in the drive mechanism and are vulnerable to cracks and pops due to dust. Digital files use error correction to ensure the sound remains consistent. 
Speed variation: Turntables can have faster or slower playback speeds, whereas digital recordings use precise oscillators and data buffers to ensure the speed matches the original recording.
Hear the Difference for Yourself at Record Head
Compare vinyl vs. digital sound quality by shopping our collection of new and used vinyl records and CDs at Record Head. With an impressive selection, you'll find old and new artists to enjoy in whatever format you prefer. Call us at 414-453-3900 or fill out our contact form to learn more! You can also shop our records online.