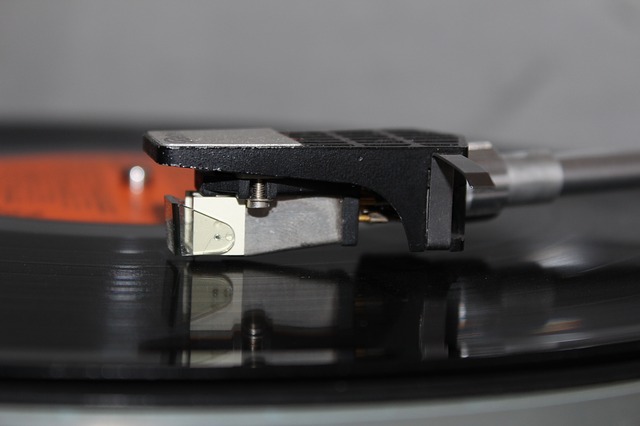 If you're a true audiophile, then you know there's nothing quite like playing your music on a superior record player. If you're new to vinyl, you may not know which to pick. You know you want impeccable quality, but everyone has their favorites that they swear by. At Record Head, we try to stay as impartial as possible. With forty years as one of Milwaukee's best stereo stores, we feel that we're qualified to chime in on the debate.
So, whether it's old classics that have aged impeccably or new technology that blows our mind, here's our list of the top five best record players on the market:
Rega RP1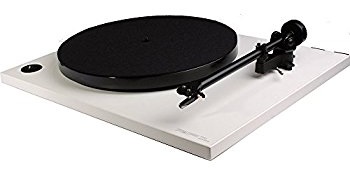 Rega is a UK-based turntable company that's been producing record players for over 40 years. The RP1 burst on the scene in 2010 and caused instant buzz among those who desire great sound quality and sleek design. The form is minimalist in nature, as the manufacturer did away with all unnecessary buttons and switches. If you're new to turntables, the Rega RP1 is considered a good starter. Not only is it an elegant addition to a music lover's home, but it has many distinct advantages:
Fairly low price tag, as quality turntables go
Durable, made from phenolic resin
Low vibration
Belt-driven motor
Manual speed adjustments
Handcrafted tonearm
Audio-Technica AT-LP120 USB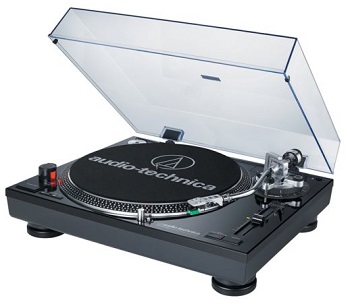 Audio-Technica is a Japanese audio equipment manufacturer established in 1962. In 2009, they developed the AT-LP120, their answer to Technics' SL-1200 series. Not only is it perfect for listening to records, but a USB connection allows you to digitize your music so that you can listen on-the-go. It's sturdy, yet more affordable than other turntables. Some of its features include:
A direct drive — platter is moved directly by motor and not a belt, causing less vibration
Forward or reverse-play capability
Pitch control slider
Controllable RPM speed modes
Cast-aluminum platter
Pioneer PLX-1000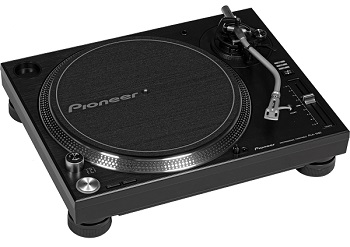 Although some consider the PLX-1000 to be a clone of the Technics SL 1200, it's still an amazing turntable used by performing DJs the world over. Because of its sturdy design and vibration-dampening technology, it's perfect for playing your music at high volumes. The PLX-1000 is an ideal option for those who want new or newer equipment. Some of its highlights are:
User-friendly controls
Direct-drive system with high torque
Vibration-dampening material
Rubber-insulated tonearm
Large range of pitch speeds
Dual 1229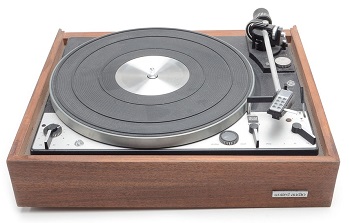 Produced in 1972, you can no longer buy a new Dual 1229. However, if you can find a used Dual 1229 in good condition, it's well worth the investment. Although heavy, it's sturdy body showcases how well-built it is. It's now sought after by audiophiles seeking quality vintage record players. One of its most advantageous qualities is its ability to play multiple records at once. It also features:
Fully automatic design
A heavy platter
Very little wow and flutter
Long tonearm with no friction
Low level of rumble
Technics SL 1200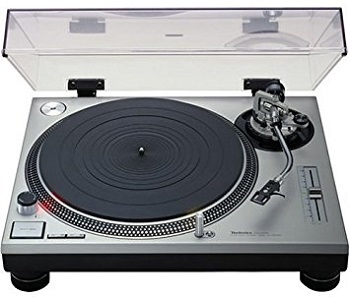 These vintage record players are considered the gold standard. However, because of this desirability, finding a good-quality used SL 1200 can be difficult. Produced in 1972 by the Japanese based Matsushita Electric Industrial Company, now called Panasonic, each model has introduced new features and improvements year after year. These turntables are beloved by everyone, from professional DJs to amateur music lovers. The Technics SL 1200 is considered the number one record player in the industry for many reasons: Low-vibration magnetic direct drive motor
Steel platter
Adjustable pitch control
Selectable speed modules
Extremely well-made design
The Best Record Store in the Milwaukee Area
If you're looking for a record store near you, don't go to one of those big box establishments. Record Head is a locally owned store where you can get chat with people who love music as much as you do. Our staff knows their music, records and record players.  Stop in Today!