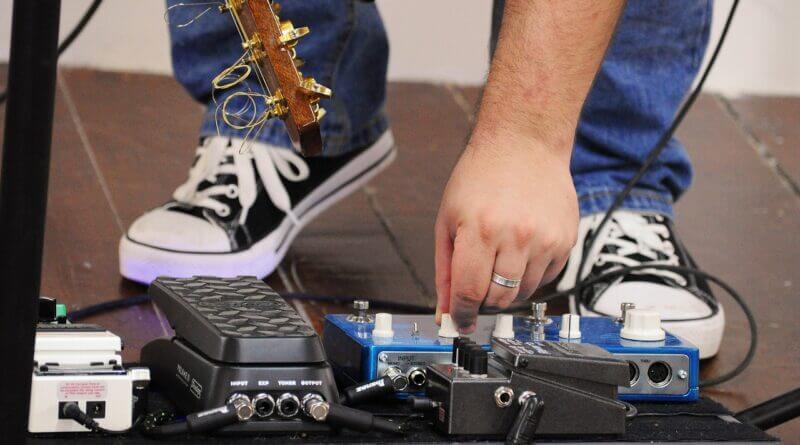 If you're like most first-time electric guitar players, you spent hours researching the right make and model. You studied online, stopped by a store to get a feel for a few options and made your selection after talking to long-time guitar aficionados. Maybe you even made a list of the guitars played by your favorite musicians.
At this point, you have the guitar, which means you're ready for the next big step in your rise to stadium rock anthem celebrity or coffee shop folk song stardom: What pedals should you get to make your guitar sing? It's a question that involves and deserves thoughtful discussion and evaluation.
Types of Guitar Pedals
You can technically play your electric guitar without so much as an amp, let alone a pedal. But if you do, you'll be missing out on the vast array of sounds and textures that could come from your six-stringed music machine. Guitar effects pedals will allow you to twist and mold every note to your liking, bending or tightening your riffs to perfection.
Several types of pedals have taken center stage, which means they belong in any guitar pedal buyer's guide.
Wah pedals: What does the wah pedal do? Think Cream's "White Room" or Metallica's "Enter Sandman." Wah pedals create ethereal swells that make the notes practically dance before you.
Distortion and fuzz pedals: Want to practice your crunch in a serious but affordable way? Get a distortion or fuzz pedal to generate that ultra-chunky, raspy sound. Overdrive pedals can also suit your needs and make great guitar pedals to start with for any budding Hendrix reincarnation.
Tuner pedals: Not that tuners are particularly sexy, but they're a must-have first guitar pedal to buy. Some tuning pedals can even be maneuvered using your smartphone, a great way to merge classic musical sounds with digital convenience.
Volume pedals: Make the neighbors wonder whether Eddie Van Halen moved in next door with a volume pedal that raises the roof. Or, go for a modest volume pedal to get terrific sound in the privacy of your bedroom or apartment.
Delay and reverb pedals: Delay and reverb pedals will texturize your music, adding depth, warmth and creativity wherever you want it most. If you like to play around with unusual layering and unexpected tones, you'll want delay and reverb pedals. And while you're at it, put in a reminder to check out chorus pedals, which can be an asset as well.
Other types of niche guitar effects pedals exist as well, and you may want to check them out someday. But for now, if you add the ones above to your kit, you'll be stocked up and ready to rock.
Getting the Best Value on Effects Pedals for Your Guitar
Want a few tips to get the best value for your dollar on guitar pedals? Always try to:
Buy used: Gently used guitar pedals can be a steal, allowing you to ramp up your experimentation quickly without so much cost.
Research first: Do your homework. Read up on pedal manufacturers and check out what other electric guitarists say.
Ask around: Know some members of a local band? Ask what types of guitar pedals they started using early in their careers.
Try then buy: Whenever possible, bring your guitar along to a shop and plug it into the pedals that strike your interest. You'll know which ones are meant to be in no time.
No more wishing and waiting. It's time to transform your guitar into an instrument capable of turning out tomorrow's hits. You just need a little help from the pedal department to turn the songs in your head into mind-blowing music.
Interested in buying guitar pedals in person or online? We'd love to help. Check out Record Head's ever-evolving inventory of musical instruments, equipment, and accessories.