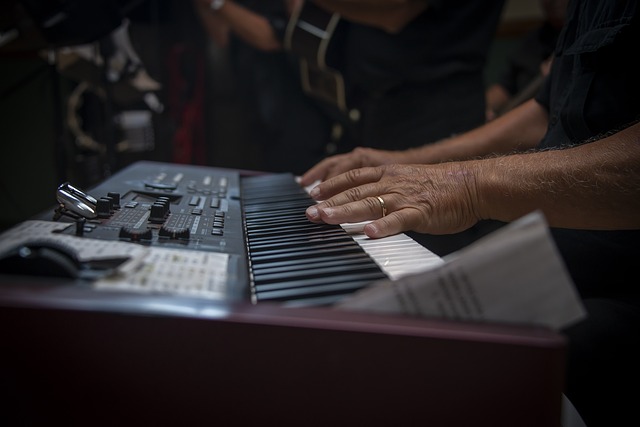 Mastering an instrument takes years of practice and dedication to the instrument. To become truly great, you need to spend a lot of time making the basics second-nature so you can take on harder and harder skills. There are lots of amazing piano players out there. But who are some of the best keyboardists? We've thought about some of our favorite players — they have to be creative, be great performers, and have amazing technical skill. Below, you'll find 10 musicians who we think are the top keyboardists. This list isn't a definitive ranking, but it does reflect some of our favorite musicians who also had amazing skill at their instrument.
1. Richard Wright
You know Wright for playing keyboards and singing backup vocals for legendary prog band Pink Floyd. But besides playing keyboards, he was also a composer and songwriter, too. Wright was highly experimental, incorporating sound effects into his music to give unique effects to Pink Floyd's style.
2. Keith Emerson
Emerson was never afraid to take risks. He could play the heck out of long and complicated runs and simple, elegant melodies alike. He played for a number of bands, but he found the most widespread success and fame playing with Nice and ELP.
3. Bernie Worrell
Worrell had a special talent for the piano at a young age — he began playing when he was only three years old! He was known as being one of the most influential funk keyboardists and can also play organ and synth.
4. Jordan Rudess
Rudess is a keyboard virtuoso, a distinction that takes him above most others when it comes to raw skill. He's best known for being a member of the progressive metal band Dream Theater and the supergroup Liquid Tension Experiment.
5. Ray Charles
Ray Charles isn't just one of the greatest keyboardists — he's also one of the greatest musicians of all time. He dipped a toe into all kinds of genres, from jazz to gospel to R&B to country. He inspired many other excellent artists who came after him.
6. Stevie Wonder
Wonder found success at an early age. Lots of his songs and albums went to the tops of the charts and he wrote some of our favorite hits of the '80s, including "Superstition."
7. Jan Hammer
Like Rudess, Hammer is also a keyboard virtuoso. He first received public attention as a member of the Mahavishnu Orchestra, and has since gone on to join and form new groups putting out amazing music.
8. Rick Wakeman
Wakeman is most famous for playing keyboards for the band Yes, but he's played with other artists too, including David Bowie and T-Rex. Rivaling his skill on the piano are his stage presence, his witty personality and his humor.
9. Elton John
When you think about Elton John, his colorful costumes and amazing performance ability likely come to mind. He pushed boundaries, helped popularize the piano in rock and roll, and won a number of awards for his undeniable talent.
10. Jon Lord
Lord played with a number of bands, but most famously for Deep Purple. He was well-known for combining classic technical skill with modern styles of playing and performing.
Who are some of your favorite keyboardists? Stop into Record Head to pick up their albums or maybe get a keyboard of your own!