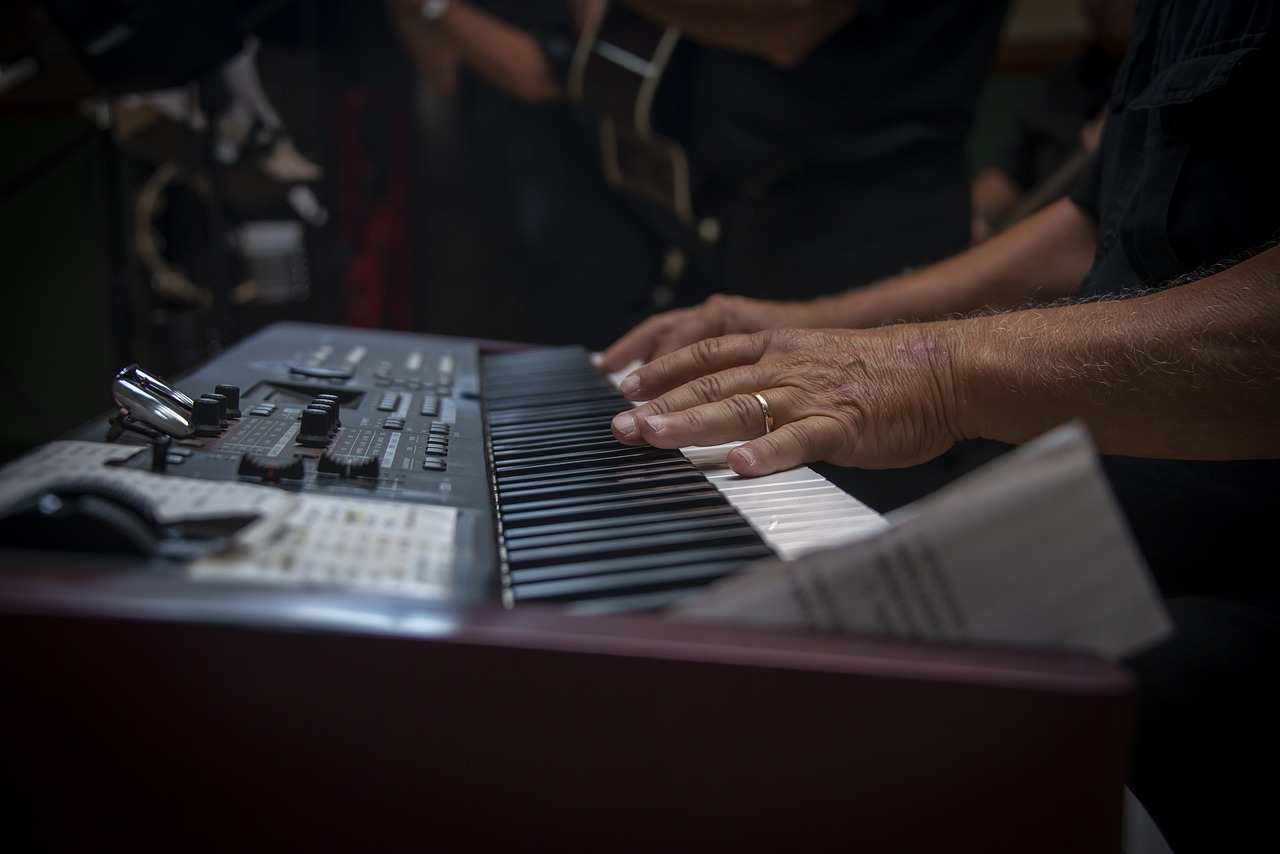 Acoustic and digital pianos have some face-value similarities and accomplish similarities, but they do so in unique ways. Knowing the differences will help you choose the right one for your situation. We'll put acoustic and digital pianos side by side in different situations to see how they compare. 
The Differences Between Digital and Acoustic Pianos
Digital and acoustic pianos have different sound-producing mechanisms and materials.
Opening an acoustic piano, you'll see a series of steel strings of different lengths and thicknesses. A felt-covered mallet hovers over each string. Pressing a key causes the mallet to strike its string, producing a vibration that equates to a note.
Digital pianos are full of electrical components that play recording samples of an acoustic piano. The sound comes out of built-in speakers, and most digital pianos feature connection ports for headphones and amplifiers. 
As for materials, most acoustic pianos feature solid wood with ivory or plastic keys. Digital pianos are more likely to be plastic-based or feature lesser-quality wood. 
Questions to Help You Choose the Right Instrument
The choice is ultimately yours, but these questions can help you determine if an acoustic or digital piano is best for your situation. 
What's Your Budget? 
If you're looking to buy a piano on a budget, a digital model is your best bet. Digital pianos are available at every price range. You can pick one up for $100 or spend thousands for more features. 
Acoustic pianos are more expensive. A mid-tier acoustic piano will be $1,000 or more, but many experienced players feel the craftsmanship and sound quality are worth the investment.
How Much Space Do You Have? 
Full-size pianos take up space, no matter what kind you buy. Acoustic pianos fill a room the fastest. An upright acoustic piano is comparable in size to digital pianos and can easily fit along a wall. Acoustic grand pianos are different. You'll need a good seven-square-foot space to house your instrument.
What Style of Music Do You Play? 
Acoustic pianos sound great in jazz, country, folk and some rock music. They also have a few niche applications in other genres. Digital pianos offer more stylistic versatility. Many digital models will have an internal sound library with hundreds of settings to mesh with any genre. 
Do You Need to Supply Your Own Gear for Practices and Gigs? 
As nice as acoustic pianos are, yours will probably stay in one room for its entire life. Digital pianos are far lighter, making them easier to haul to your practice space or gig venue. If you aren't concerned about playing elsewhere, go for the acoustic model! 
Is Volume a Concern? 
Acoustic pianos essentially have one volume. You can't turn your acoustic piano down to appease your roommates or turn it up to compete with a band. You can play a digital piano through headphones or hook up to a PA system. 
Do You Record Music? 
Acoustic pianos sound beautiful in recordings, but you need a quality fitting room and a microphone to capture the sound. A digital piano plugs directly into an audio interface with a quarter-inch cable. Many digital pianos also double as MIDI controllers that connect to computers via USB to load any sound sample imaginable. The challenging part is capturing an authentic sound that convinces scrutinous listeners. 
Do You Mind a Little Upkeep? 
Acoustic pianos require a little bit of maintenance to sound their best. You'll have to tune your acoustic piano and keep it in a room where humidity won't alter the wood. Digital pianos are more of a plug-and-play option. 
How Much Does Feel Matter? 
There is a noticeable difference in touch sensitivity between an acoustic piano with heavy keys and the standard digital model. A good digital piano will have weighted keys to replicate the feel of an acoustic piano, but some players can't shake the difference. Many teachers will suggest learning on an acoustic piano to build dexterity and dynamic range. 
The Verdict
So, are digital pianos better than acoustic, or the other way around? Digital and acoustic pianos each have their strengths and weaknesses. Here's what we suggest for every kind of player:
Best for learners: Acoustic
Best for refined players: Acoustic 
Best for the aficionado: Acoustic
Best for the gigging pianist: Digital
Best for players on a budget: Digital
Best for low-maintenance preferences: Digital
Best for home studios: Digital
Best for apartments and tight spaces: Digital
Looking for a piano? Record Head buys, sells and trades all kinds of musical instruments. Stop in or get in touch to see if we have any pianos in stock.