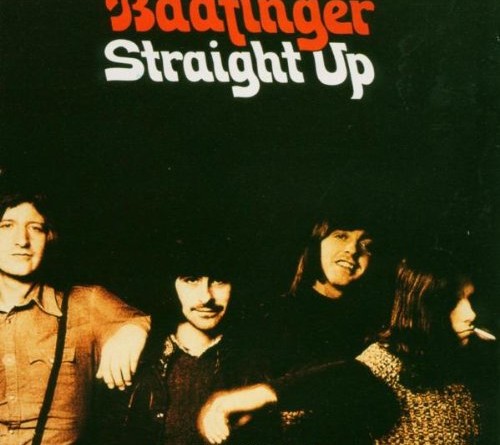 It was the fall of 2013, the finale of the epic show Breaking Bad had just aired, when I always had customers coming up to me asking "Who does that "Baby Blue" song at the end of the show when Walt (Bryan Cranston) died?" I would always have to tell the customer that it was the band Badfinger from the "Straight Up" album.
I was really floored of how many customers I would talk to that had either never heard of the band before or had never heard this song before they saw that last episode of Breaking Bad. Anytime someone would ask me about this song, I always would tell the customer about my great love for this song, but not only that, the song is on one of my favorite albums of all time, Badfinger's "Straight Up" LP.
"Baby Blue" is just the kind of song that is so infectious that you can't help singing along to it. And I thought if this song is that good, I sure hope the rest of the album meets that expectation. It sure did!
This album from 1971, on the Apple label, became one of Badfinger's best LPs, if not one of the best power-pop albums ever recorded.
George Harrison was first to produce on the album but he couldn't finish due to working on another project. Todd Rundgren, of "Hello It's Me" fame, came in to finish producing and mixing this album. What they helped to create was a power-pop masterpiece. "Baby Blue" and the beautiful gem "Day After Day" were both sung by Peter Ham, who, in my opinion, had to be the most underrated musician/singer-songwriters of our time. You can really hear how vulnerable of a person he was, especially poignant considering he would take his own life five years later. There's a beautiful pathos sung by Peter in songs like "Name of the Game", "Take it All" and my personal favorite "It's Over". If you want a fun, uplifting catchy song, check out "Suitcase" sung by Joey Molland, who also does a killer slide guitar in the song. He was the great compliment to Peter Ham's harmonies, as well as bassist Tom Evans.
In 1997, Pegasus Flight Productions did a riveting and engrossing documentary of the band. I highly recommend watching this if you want to learn more about Badfinger. It is worth the find on DVD.
If I was stranded on a desert island, this is one of the first albums I would take with me!
If you are looking for more on classic albums like Badfinger's Straight Up or more contemporary releases, get in touch with our knowledgeable staff here at Record Head!
-Aletamarie