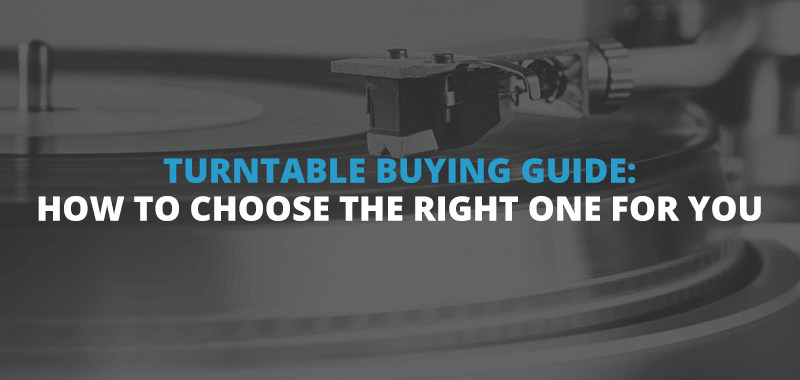 There's nothing like scrolling through your collection of vinyl, placing one on the turntable, and relaxing ⁠— or rocking out ⁠— to your favorite music. There's something about playing a record that connects you to a simpler time in music's history.
Regardless if you've been collecting vinyl for years or if you're new to the physical music world, you likely want the best turntable possible to play your collection. Vinyl has made a recent resurgence, and as a result, there are more record player options than ever.
It may seem difficult to know how to select the right turntable for you, but don't look at your stack of records in despair. With this turntable buying guide, you'll learn how to choose the right one for you based on your budget, setup needs, and more.
How to Choose the Right Turntable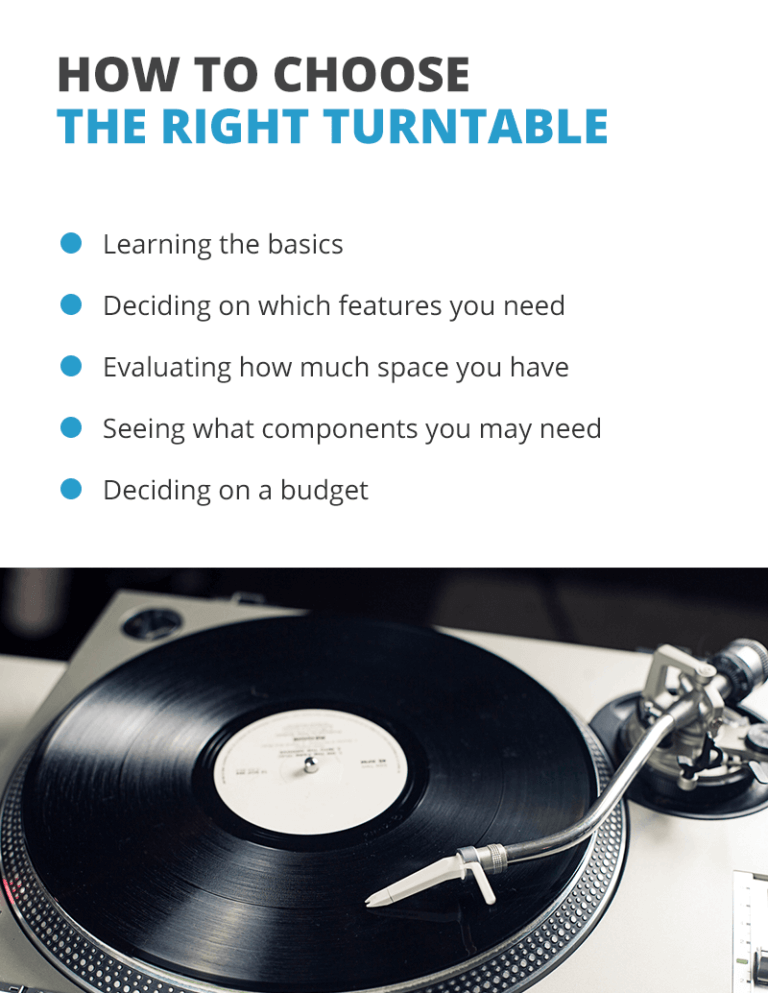 A turntable is an investment you'll use for your other investments — your vinyl collection. You don't want to risk damage to either of these precious things. Careful planning, purchasing, and installation will help ensure you make the best choices.
Some general guidelines for choosing the right record player include:
Learning the basics: Familiarize yourself with the components of a turntable to see how it all works. You'll know how everything should function and what creates an overall better system.
Deciding on which features you need: Do you want Bluetooth to built-in speakers? Automatic or manual tonearms? Turntables have varying features across countless makes and models. Some accessories and features are essential, while others aren't as necessary, so learn about and prioritize certain components.
Evaluating how much space you have: You want to be able to dedicate a clean, safe and sturdy space for your new audio equipment. Leaving a turntable on the floor or somewhere else unsafe means you risk breaking your investment and possibly the record on the platter.
Seeing what components you may need: In this record player buying guide, we'll discuss what you need for a turntable setup. It is essential to know what components you'll need with various equipment because that contributes to your turntable setup's overall cost, quality, and size.
Deciding on a budget: Record players and turntables come in a wide range of prices suitable for various budgets. Give yourself a range once you've researched the best equipment and components for your needs, so you get a quality option without spending too much.
With a budget, size limit, accessories list, and more in mind for your record player, you're on your way to making the right choice for you.
What Is the Difference Between a Record Player and a Turntable?
When you picture a kind of record player, you may imagine something older, while a turntable may carry DJ associations or a modern twist. Others may not think there is a difference because these words have become more interchangeable in recent years. There is a difference between a record player and a turntable, but it centers around the function of the two devices:
A turntable is part of a record player that spins your record around, but it can also be a unit without built-in speakers or amps. You'll need those external components to create the whole system.
A record player often contains speakers and an amp, minimizing the extra components you need to complete your setup. Because of those components, a record player may be larger than a turntable. But if you consider the extra components you'd need with a turntable, a select kind of record player may end up being smaller overall.
What Do I Need for a Turntable Setup?
A modern record player may not require as much setup as an older model, but there's something to be said for a vintage sound. No matter the age of your record player or turntable, you will likely need:
A sturdy surface to hold and display your record player.
A preamp, which newer record players have.
An amp that can handle phono.
A speaker or multiple, depending on your setup.
When you know what you need for a turntable setup, you can better understand how much space and budget you have to accommodate various record players. Some are more minimalist and compact, while others have a more dramatic profile.

Do I Need an Amplifier for My Turntable?
If you have active, also known as powered speakers, they have their own amps and require external power, which may alter your setup differently from passive speakers, requiring separate amps. You may need an in-line preamp with an active speaker, but you won't require an amp.
Active and passive speakers both have their potential benefits, but the quality depends on the make of the speakers and your overall setup. With more components in a setup, you'll have to do some more research to ensure every part of your turntable and speakers delivers high-quality sound.
How Much Should I Spend on a Turntable?
How much you should invest in a turntable or record player depends primarily on your budget, but you'll also want to consider the setup and quality you want for your music. Any vinyl collector wants something that will provide pure, quality sound to transport them into their record, and your budget doesn't necessarily have to be a limiting factor.
While you don't have to spend your entire budget and choose something at the high end of the price range, you may not want to go as low as you can, either. A cheap-as-possible record player or turntable could:
Damage records
Have unreliable components
Break easily
Put out low-quality sound
At that point, it's worth investing a bit more to ensure better quality. You don't want to damage anything in your vinyl collection, and you obviously want to enjoy your listening experience. Along with quality, these factors can also influence price:
The rarity of the model
The brand
Any extra features or abilities
What Is the Best Budget Turntable?
The best budget turntable is going to depend on what you consider "budget." Some consider anything under a few hundred dollars to be a budget turntable. That may seem high for the concept of a budget turntable, but you have to think about the overall setup and the quality of sound you desire. Still, if you want to try and save as much as you can, you can try to:
Hunt for trustworthy, used options.
Keep an eye out for potential hand-me-downs.
Try to restore a vintage turntable.
Your best bet will probably be to search for used options. Go thrifting or find a reliable seller to find a used model at an affordable price.
Best Record Player Under $100
To find the best record player under $100, you'll need to do some research. Be sure to opt for reliable manufacturers and retailers, especially if you still want high-quality sound at a lower cost. Some popular budget record players are:
Lenco L-85 for a simple plug-in-and-play operation.
Jensen JTA-230 with accessible controls for audio customization.
ION Audio Max LP is a great beginner turntable option
Many affordable record players and turntables are best for beginners and those looking for an uncomplicated setup, but there are plenty of other options to consider.
What Is the Best Record Player to Buy?
So now comes the big question — what is the best record player to buy? Unfortunately, there isn't one make and model that's the world's best turntable because every system is different, and every listener's needs vary. But we can give you some suggestions about which are the best record players with speakers which are the best audiophile turntables.
If you're looking for a classic record player, there are several options to consider. While most people think "old" or "vintage" means "low-quality," these players offer great sound. Plus, they offer a timeless look that will complement the decor of any space. Some of the best options to consider are:
Technics SL 1200
Dual 1229
Rega P3
If your heart is set on purchasing a vintage model, prepare to spend time searching. You may want to pick up a budget turntable to enjoy your records before finding the perfect vintage system because of the potentially long wait.
To get a quality record player or turntable, you don't need to hunt for equipment from the previous century. Plenty of manufacturers have made some of the best record players in the 21st century, so you can find exactly what you need, whether it's incorporated speakers, Bluetooth, or a particular brand.
Best Record Players With Speakers
The best record players with speakers offer an all-in-one setup, and many of them are portable as a result. Look for models like these if you want a self-contained unit to get you started with a simple record player or turntable setup:
Crosley CR6232A-BR Nomad Portable USB Turntable
1byone Portable Stereo Turntable
Wockoder Record Player With Speakers
A record player with integrated speakers is also a great option for anyone on a budget. You won't need to factor in extra costs for an amp or speakers because everything is all-in-one.

Bluetooth Record Player
A Bluetooth record player can connect to speakers or headphones wirelessly for a seamless installation. If you're interested in modern technology, check out:
Sony PS-LX310BT
Audio-Technica AT-LP60XBT
Victrola Technology Bluetooth Turntable
If you're searching for modern and versatile audio equipment, a record player with Bluetooth integration may fit the bill, but some audio purists and audiophiles prefer a physical setup.
Audio-Technica Record Player
Audio-Technica is a popular manufacturer of audio equipment, creating turntables, record players, and more since the 1960s. Some popular Audio-Technica record players include:
AT-LP120-USB
AT-LP60BK-USB
Those looking for a solid introductory option appreciate Audio-Technica record players for their simple setup and features.
Best Audiophile Turntable
If you're an audiophile, you appreciate hi-fi and value your audio equipment. You're looking for the best audiophile turntable, and unsurprisingly, there are plenty of debates on this subject. In general, an audiophile needs high-quality equipment from the turntable to the speaker.
As an audiophile, your budget may lean towards the high-end. You'll want to look into possible options more, but to get started, think about:
Pro-Ject 2Xperience SB Turntable, which is on the expensive side, but worth the investment for its quality.
Thorens TD 203, which is another high-end option.
Music Hall MMF 9.1, which is suitable for beginners at a lower-than-average price.
Be sure to evaluate your budget and your needs before you select an audiophile turntable. If you aren't sold on a higher price for higher quality, consider going with a beginner model.
What Is the Best Turntable for Home Use?
Any of the previously mentioned record players could be suitable for home use. As you choose a turntable for your home, you'll want to:
Consider the amount of space you have for the turntable, speakers, and other components.
Think about your room setup when deciding how many speakers you want and where they will go.
Consider a portable option with built-in speakers since that may be suitable for smaller homes or if you have many rooms where you enjoy listening to your vinyl collection.
Read reviews and learn about your options before making a final decision.
If you're new to the world of record players and turntables, you don't need to rush into a higher-priced investment. Explore introductory, thrifted, or inexpensive options to get a feel for what works best for you and your setup. Once you get a bit more knowledge and experience under your belt, you can explore high-end options and other ways to customize your audio equipment.
Find Your Perfect Record Player at Record Head
We hope our Guide to Buying Turntable helped you start the process of selecting a record player that's right for you.  You need to consider everything from your needs as a listener to your budget to your available space.
Before you make a final decision, check out our extensive record player selection at Record Head. We've got the gear you need and the vinyl you've been searching for to enhance your collection. Visit us at our Milwaukee location or check out our online shopping options to discover our new and used electronics.
Contact us with any questions you have about choosing the right turntable or learning about buying and selling with us.